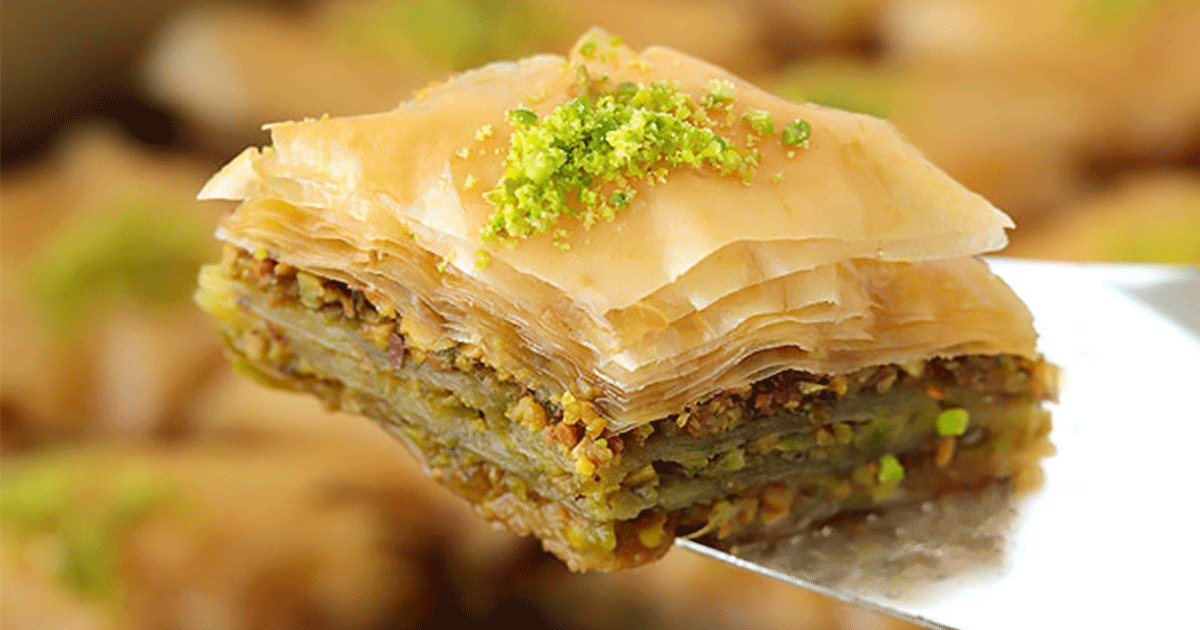 For the baklava dough
1kg flour
550 ml water
2 tbsp salt
1 tbsp maragarine
500g corn starch
For the filling
600g nuts or pistachio coarsely crushed
1 L sugar syrup
For the syrup
300g granulated sugar
250ml water
1 tbsp lemon juice
1 tbsp orange blossom water
Mix all ingredients for dough. Cover and let it sit for 20mins.
Divide it into three and make 16 small balls from each, so you will have 3 groups of balls, each with 16 balls. Sprinkle corn starch over them.
Take one of the balls and roll it out a little using corn starch. Sprinkle corn starch over it and put it aside. Roll out 15 balls in the same way and put them on the first one sprinkling starch between layers and they overlap. Repeat the same for the other two groups. Layers of good baklava must be very thin.
Take the first rolled group and roll all of them together as big as thin as you can. Use starch when needed.
Preheat the oven to 180°C. Mix together the nuts (or pistachio) and the sugar syrup and spread the mixture over the pastry in the tray. Layer up the remaining sheets on top of the mixture, brushing each sheet with margarine, as before.
Place baklava in the preheated oven for approximately 20 minutes, then decrease the oven temperature to 150 °C and cook for an additional half hour to 40 minutes, or until the pastry is slightly puffed and golden on top. Remove and allow to cool slightly.
For the syrup, heat the sugar, water, lemon juice and orange blossom water in a small, heavy-bottomed saucepan and cook over a medium heat until the sugar has melted and a syrup is formed.
Pour the syrup on the baklava and leave to cool. Cut into small diamond-shaped pieces and serve.