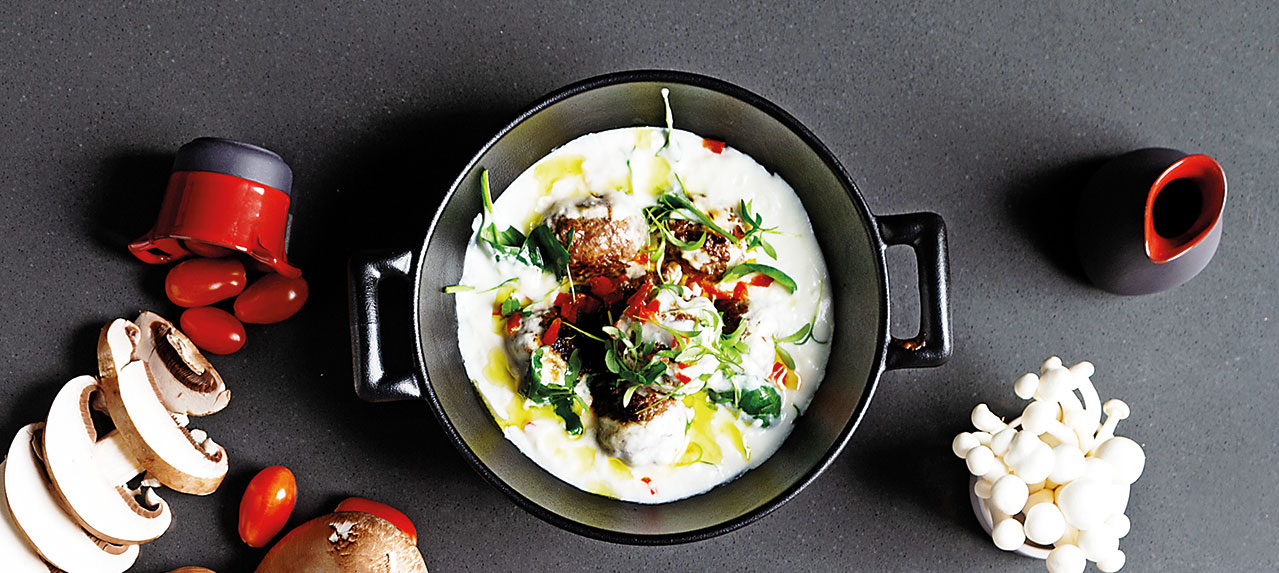 1kg Australian lamb mince
1 egg
4 garlic cloves
300g Swiss chard
70g pine nuts
2 ½ tbsp lemon juice
1 medium onion, chopped
Salt to taste
¼ cup olive oil
1 red chili
Pepper to taste
2 tsp coriander powder
150g fresh breadcrumbs
½ tsp dried mint powder
1 tsp cinnamon powder
500g Greek yogurt
1 tbsp cornstarch
1. Place the meat, garlic, pine nuts, chili, spices and breadcrumbs in a large bowl. Mix well, then shape into 2-inch meatballs, weighing 20g each. You should make about 24 balls.
2. Heat 2 tablespoons of the olive oil in a medium saucepan and fry the meatballs over medium heat for 8 to 10 minutes.
3. To make the yogurt sauce, place the yogurt, cornstarch and egg in a large mixing bowl.
4. Whisk well to form a smooth paste. Add 2 teaspoons of salt, along with a good crack of black pepper, stir, and set aside.
5. Pour the remaining oil into a medium pot and place over medium-high heat.
6. Add half the meatballs and fry for 4 minutes, turning a few times so that all sides get browned.
7. Remove from the pan and repeat with the remaining batch, adding a little bit more oil if you need to.
8. Next, pour in the yogurt sauce. Bring to a very gentle simmer over medium-Iow heat – it should barely be bubbling, stirring continuously in one direction to prevent the yogurt from curdling.
9. Finally, add the swiss chard.
10. Serve at once, with chili and cilantro sprinkled on top.