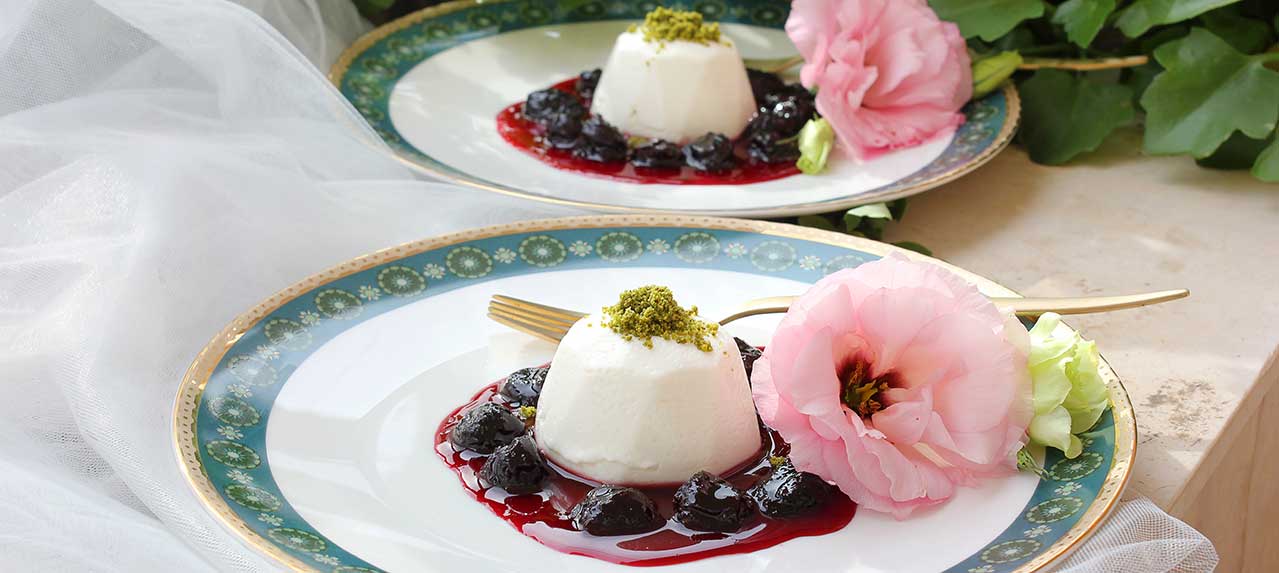 6 cups of milk
6 tablespoons of sugar
2 cups of fresh cream
7-8 tablespoons of corn flour
5 mestika pieces well crushed with ½ spoon of sugar
A tablespoon of rose water
A tablespoon of orange blossom water
Crushed pistachio or hazelnut to garnish
1/2 kilo frozen cherries
1 cup sugar
1 tablespoon lemon juice
1. Mix one cup of milk with the corn flour and leave aside.
2. Pour the rest of the milk with the fresh cream in a bowl over low heat to boil.
3. Add the previous mixture of the milk and corn flour to the boiling milk.
4. Stir well to achieve a thick creamy texture free of lumps.
5. Add the mestika powder with orange blossom and rose water over the mixture.
6. Pour in moulds or cups and leave to cool.
7. Once cooled down overnight, flip the milky dessert on a serving plate, garnish with pistachio, and serve with the homemade quick jam.
For the quick jam:
8. Place all ingredients in a sauce pan. Bring to a boil then reduce heat to simmer and condense.
9. Once thickened, remove from heat and cool down to room temperature. Then save in the fridge.