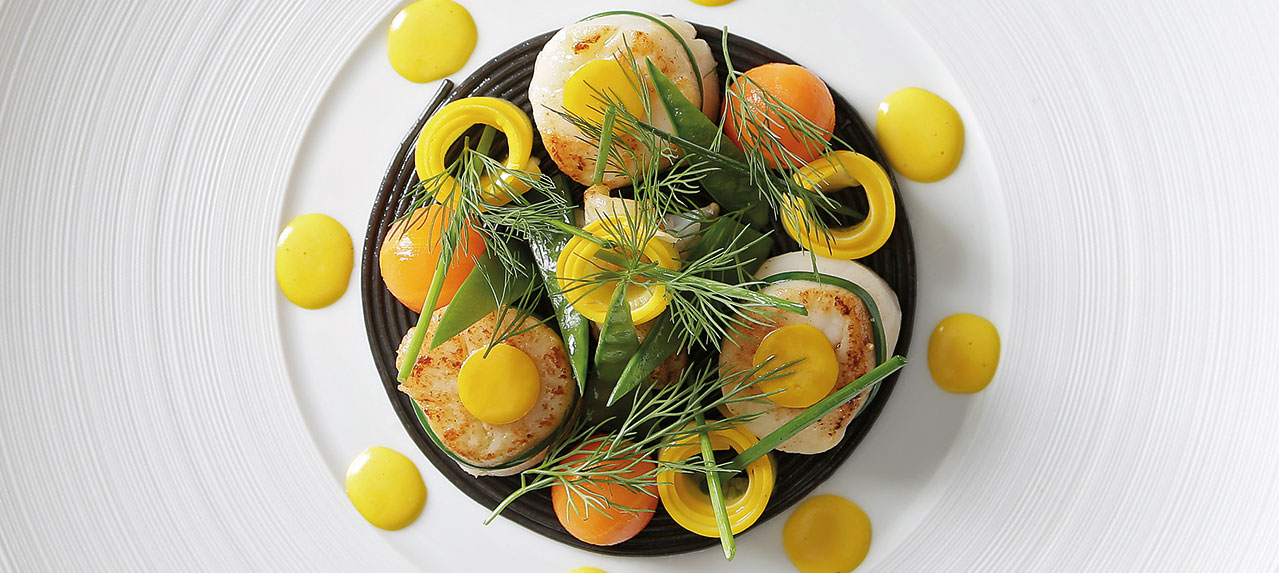 12 sea scallops
40ml chicken stock
5 shallots
2 bay leaves
1 bunch chives
1 bunch dill
½ thyme bouquet
300ml cream
2g Iranian saffron
Salt flakes to taste
Ground pepper to taste
100g butter
80ml olive oil
1 yellow zucchini
2 carrots
100g snow peas
150g black squid ink spaghetti
For the creamy Iranian saffron sauce
1. Slice shallots and cook in olive oil with French thyme, without coloring.
2. Add chicken stock, reduce until 1/3 of the volume.
3. Add saffron and mix.
4. Add cream and reduce until a creamy texture and season.
5. Mix in a blender. Adjust seasoning.
6. Add butter. Leave it aside covered with plastic film.
For the garnish
1. Prepare vegetables and cook them in extra salted water.
2. Green vegetables should be put in iced water after cooking.
3. Cook spaghetti in salted water with olive oil. Reserve on a plate without rinsing and let cool.
For the sea scallop and the baby squid
1. Season with salt flakes and freshly ground pepper.
2. Sauté in hot pan with olive oil and a sprig of thyme. Add butter and brown.
Finishing
Garnish with dill and chopped chives.