BY SOUS CHEF AHMAD ZOGHBI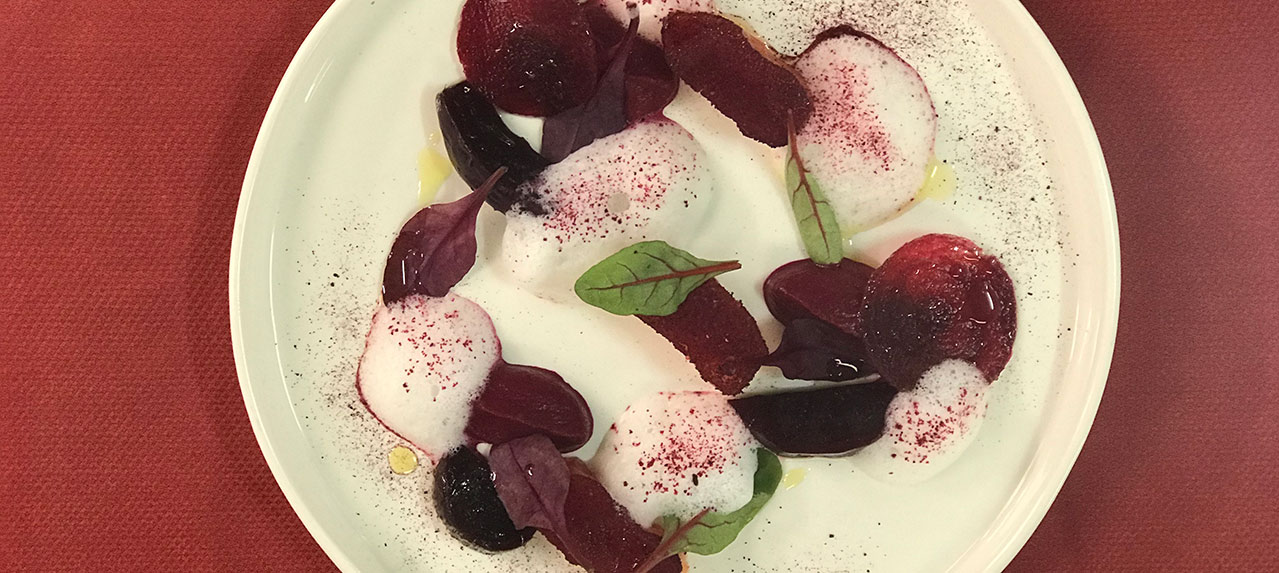 140 g cured salmon
60 g beetroot
120 g Sea Salt
120 g Sugar
400 g Beetroot
1/2 cup of dill
1 lemon zest
100 ml Vodka
20 ml soy sauce
1 kg of salmon
1. Place a large sheet of aluminum foil on a rimmed baking sheet. Scatter beets on the baking sheet along with garlic and ginger. Sprinkle with coriander and salt, and drizzle with oil. Cover with another sheet of aluminum foil and seal edges to form a packet.
2. Bake until beets are tender enough to be pierced with a knife, about 30 minutes. Remove from oven and let beets steam in foil packet for 10 minutes.
3. Unwrap packet and transfer beets, garlic, ginger, and any juices into a food processor.
4. Puree with zest, juice and vinegar until almost smooth with only small lumps. Add butter and puree until incorporated.
5. In a bowl combine salt, sugar, beetroot, dill, zest, vodka and soy sauce.
6. Line a tray with plastic wrap. Place salmon on to it. Cover with salt mix and rub all over to ensure salmon is well covered. Cover tightly with plastic wrap, place a weight on top and refrigerate for at least 24 hours or up to 3 days.
7. Tip off any excess juice every six hours or each day if you are marinating for longer and turn the salmon.
8. Before serving, remove from fridge. Remove excess beetroot then wash salmon gently to remove excess salt. Use paper towels to pat salmon dry. Return to fridge until needed. Once cured it will last for up to a week.