MEDITERRANEAN BEEF AND VEGGIE WRAPS
BY U.S. MEAT EXPORT FEDERATION
Serves 4 | Prep/cooking 15mins
In about 10 minutes you've got an easy, portable Mediterranean beef wrap made with U.S. Ribeye Roast, common ingredients and fresh vegetables.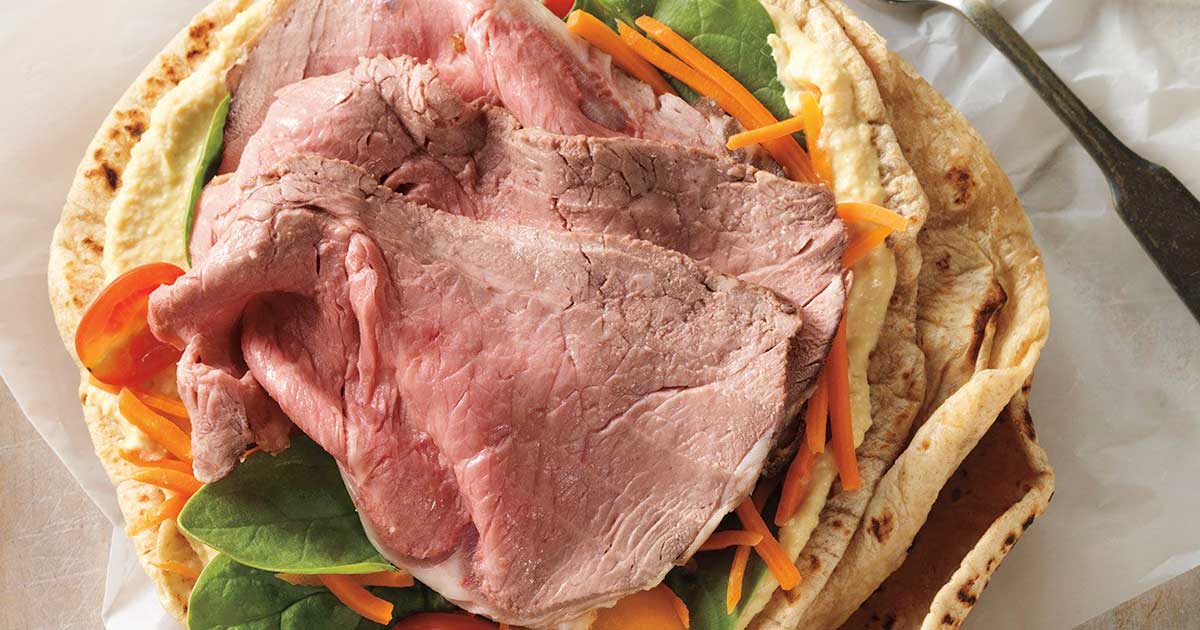 Courtesy of the Beef Checkoff
Nutrition information per serving: 290 Calories; 72 Calories from fat; 8g Total Fat (2 g Saturated Fat; 0 g Monounsaturated Fat;) 38 mg Cholesterol; 1046 mg Sodium; 31 g Total Carbohydrate; 3.8 g Dietary Fiber; 22 g Protein; 3.2 mg Iron; 0.2 mg Niacin; 0 mg Vitamin B6; 0 mcg Vitamin B12; 0.1 mg Zinc; 0.1 mcg Selenium; 2.7 mg Choline.
This recipe is an excellent source of Protein, and Iron; and a good source of Dietary Fiber.
Ribeye Roast – Rib Primal
Savory and fine-textured with generous marbling. A classic holiday roast.
Cal: 290
340g cooked, thinly sliced
4 tortillas, medium whole wheat flour (20 to 25 cm diameter)
Hummus or Garlicky White Bean Spread
Grape tomatoes halves
Shredded carrots
Red bell pepper strips
Cucumber, thinly sliced
Red onion, thinly sliced
1. Spread each tortilla evenly with hummus, as desired, leaving 65 mm border around edge.
2. Top with equal amounts salad greens and vegetables, as desired.
3. Top evenly with and beef slices. Roll up tightly.
4. For the Garlicky White Bean Spread: Combine 1 can (440g) great Northern or cannellini beans, rinsed, drained, 2 tablespoons water, 1 tablespoon lemon juice, 1 tablespoon olive oil, 1 teaspoon white wine vinegar, 1 small clove garlic, minced and ½ teaspoon salt in blender or food processor. Blend until smooth.