MARINATED STRAWBERRY CRUMBLE CHEESECAKE
Serves 10 | Prep/cooking 70 mins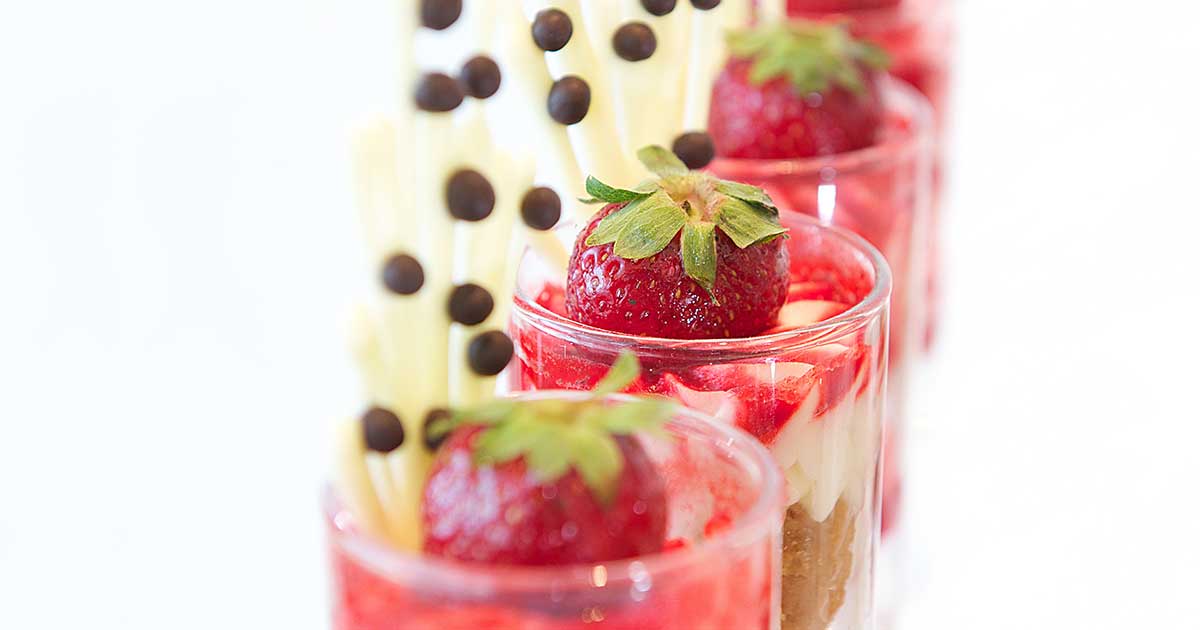 Biscuit
75g crushed digestive biscuit
25g melted butter
1 lemon's zest
For strawberry layer
10ml lemon juice
10ml water
5g corn flour
50g caster sugar
2 ½ kg sliced strawberries
Cheesecake layer
1 gelatin sheet
15g lemon juice
170g cream cheese
115g caster sugar
150g whipping cream
5g vanilla extract
Whipped cream for decoration
Chocolate for decoration
1. For the crumble, mix all the biscuit ingredients together and set aside.
2. For the strawberry layer, place the lemon juice and water into a small saucepan, mix in the corn flour and bring to a boil.
3. When the corn flour is dissolved, mix in the sugar and the strawberries.
4. Gently heat on a low setting to dissolve the sugar.
5. Remove and allow to cool and thicken.
6. For the cheesecake mixture, soften the gelatin for 3-5 minutes in the lemon juice and a spoonful of water if needed.
7. Heat mixture gently over low heat in a small saucepan until gelatin is completely dissolved.
8. Whisk the cream cheese and sugar in a mixer or blender on medium speed.
9. When sugar is dissolved, turn down the speed and add the whipped cream and gelatin.
10. When the mixture is well-blended, add the vanilla extract.
11. To assemble, place some of the biscuit layer into the base of a glass cup, add cheesecake mixture, then add some strawberries.
12. Chill the mixture for a few hours and top with whipped cream and chocolate for decoration.