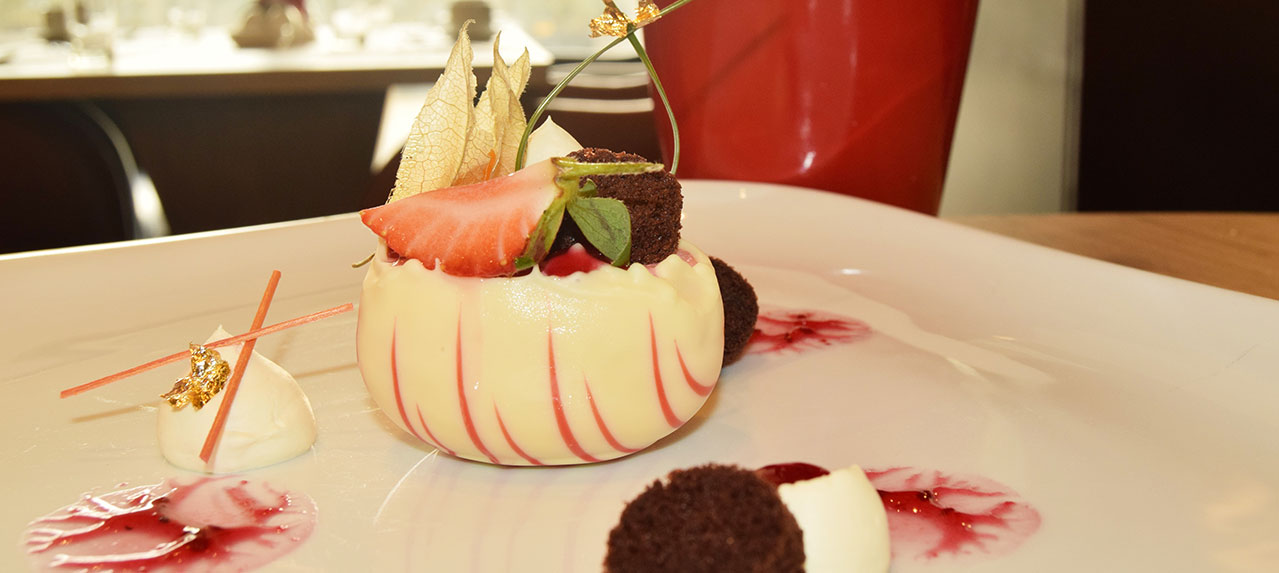 Sugar 350g
Milk liquid 500ml
Butter 250g
Cacao powder 50g
Citric acid 10g
Flour 350g
Baking powder 20g
Salt 5g
Eggs 4pcs
Vanilla liquid
Milk chocolate 200g
Cacao butter 75g
Strawberry puree 110g
Gelatin mass 30g
White chocolate 150g
Strawberry concentrate 75g
Whipped cream 500g
Mixed red fruits puree 250g
Inverted sugar 25g
Gelatin mass 25g
White chocolate 60g
Pistachio paste 40g
Salt 1g
Whole pistachio 40g
Roasted pine nuts 70g
Feuillentine 55g
Cream fresh 1ltr
Mascarpone cheese 200g
Sugar 150g
Vanilla
1. Mix sugar with butter until become foamy and white, add eggs gradually along with the vanilla.
2. In a bowl, put all the dry items together with the milk and mix gently.
3. Add the two mixtures to each other and fold them gently until a homogenous dough consists. Bake at 180 degrees for 15 minutes.
4. Melt the ingredients separately and mix them together, use at 33 degrees.
5. Warm up puree and gelatin mass, pour on chocolate and concentrate to make an emulsion.
6. At 35 degrees mix delicately with whipped cream.
7. Fill different sizes of heart shape.
8. Mix all ingredients together and pour in the desired shape mold. Freeze then use.
9. Melt chocolate, add pistachio paste.
10. Mix with all the rest of ingredients to enrobe every dry piece with chocolate.
11. Fill the ring corresponding the size you want, in silicon mold and let crystalize.
12. Whip all the ingredients together.