ENGLISH MUFFIN CHEESEBURGER PIZZAS
BY U.S. MEAT EXPORT FEDERATION
Serves 6 | Prep/cooking 30 mins
Cheeseburgers and pizza? Two of our favorite things, combined into one.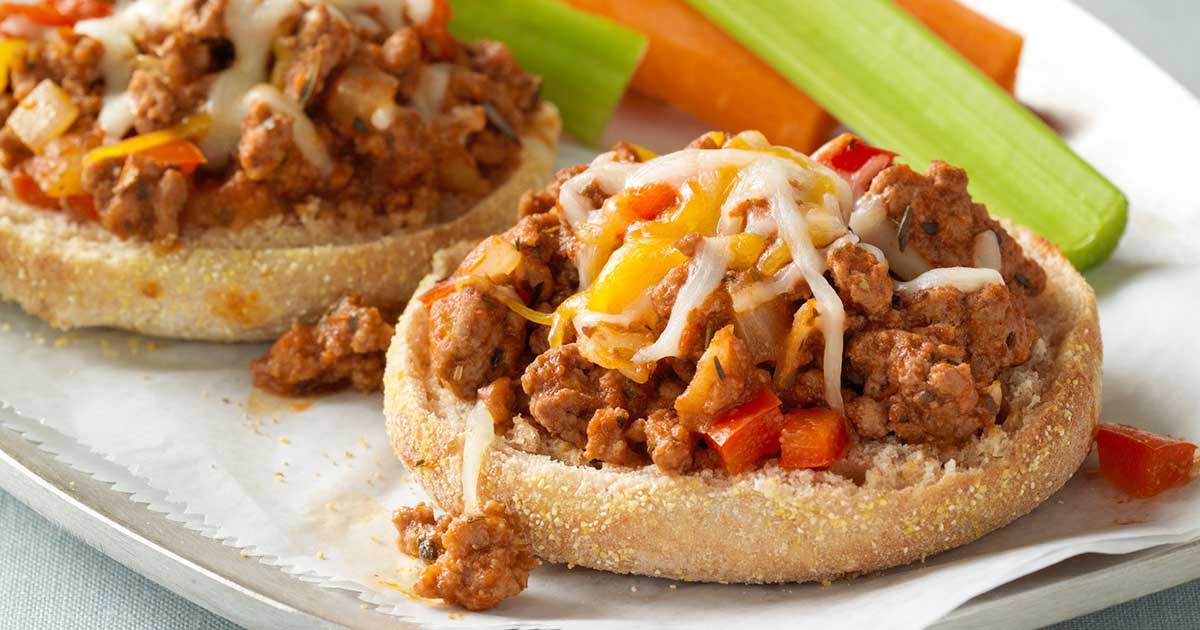 Courtesy of the Beef Checkoff
Nutrition information per serving, using 95% lean ground beef: 407 Calories; 117 Calories from fat; 13g Total Fat (5 g Saturated Fat; 3 g Monounsaturated Fat;) 80 mg Cholesterol; 891 mg Sodium; 37 g Total Carbohydrate; 4.5 g Dietary Fiber; 35 g Protein; 4.9 mg Iron; 13.1 mg Niacin; 0.5 mg Vitamin B6; 2.4 mcg Vitamin B12; 6.8 mg Zinc; 20.2 mcg Selenium; 84.2 mg Choline.
This recipe is an excellent source of Dietary Fiber, Protein, Iron, Niacin, Vitamin B6, Vitamin B12, Zinc, and Selenium; and a good source of Choline.
Ground Beef – Ingredient Cuts
Versatility and rich flavor make it ideal for burgers, tacos or wraps. Perfect for breakfast, lunch and everything in-between.
Cal: 410
680g Ground Beef (95% lean)
2 cups pasta sauce (any variety)
1 cup diced onion
1 cup diced red bell pepper
1 tbsp plus 1 tsp dried Italian seasoning
1/4 tsp salt
6 English muffins, split, toasted
1/2 cup reduced-fat shredded Cheddar cheese
1/4 cup reduced-fat shredded mozzarella cheese
1. Preheat oven to 200⁰C.
2. Heat large nonstick skillet over medium heat until hot.
3. Add Ground Beef; cook 8 to 10 minutes, breaking beef into small crumbles, stirring occasionally.
4. Add pasta sauce, onion, bell pepper, Italian seasoning and salt; continue cooking 5 minutes or until vegetables are crisp-tender, stirring occasionally.
Tip
Cooking times are for fresh or thoroughly thawed Ground Beef. Ground beef should be cooked to an internal temperature of 71⁰C. Color is not a reliable indicator of ground beef doneness.
Top each muffin half evenly with beef mixture and cheeses. Bake at 200⁰C 5 to 7 minutes or until cheese is melted.