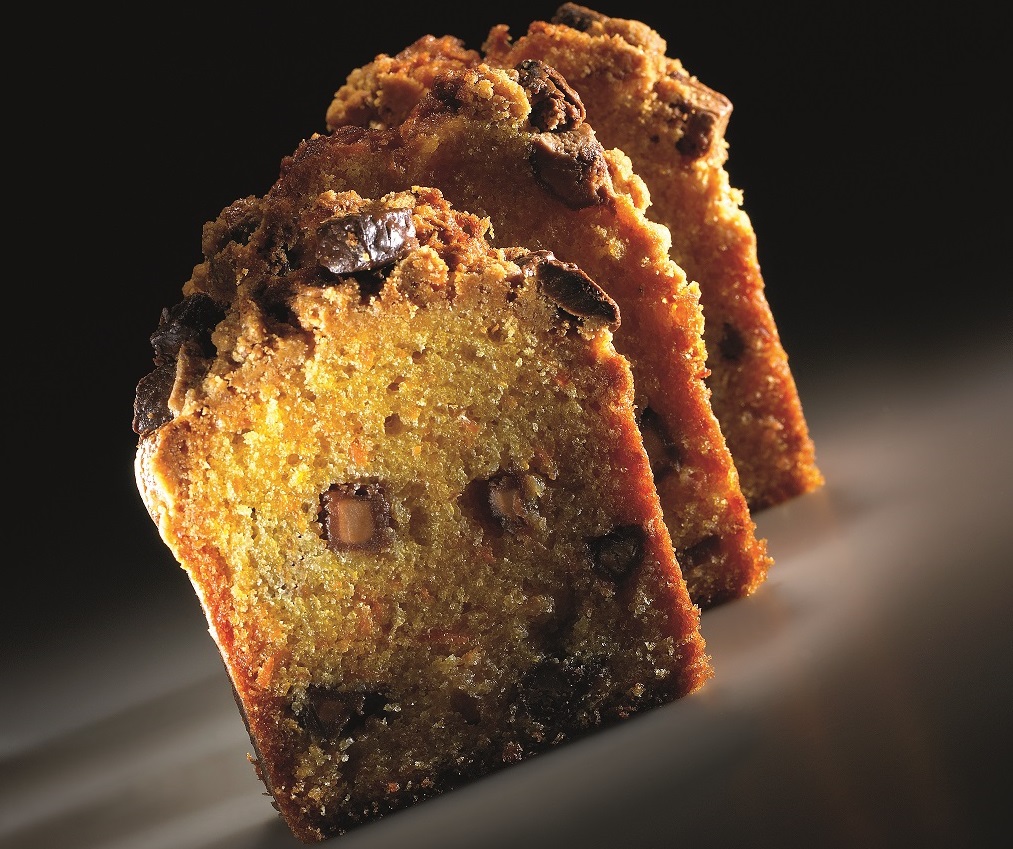 Almond-Caraway Streuzel
38g  light brown sugar
38g flour 55
38g ground almonds ultra fine Sosa
38g butter
 4g Cumin seed/caraway seed
Carrot Cake
440g flour 45
600g sugar
2.5g cumin seed/caraway seed
4g baking soda
1g baking powder Sosa
 2.5g salt
 250g eggs
200g grape-seed oil
170g clarified liquid butter
330g carrot
150g orange juice
Gâteaux de voyage "Carrot Cake"
150g almond-caraway streuzel
 2100g carrot cake
 350g gianduja -milk hazelnut 35%
Almond-Caraway Streuzel
Using a pepper mill, grind the caraway seeds to a powder.
Dice the butter into small cubes.
Sieve all the powders together.
Add in the butter and knead in a kitchen mixer fitted with the paddle attachment. Little dough lumps are forming and then gather together into a rough dough.
Stop kneading and set aside in the refrigerator for about 30mins.
Push the cold dough through a 4 mm wire grid in order to get regular granules.
Store in the freezer or bake at 150 /160°C to golden brown when needed.
Carrot Cake
Sieve together the flour with the baking powder and bicarbonate of soda.
Peel the carrots and shred finely with a grater.
Combine in a mixing bowl the orange juice with the eggs, oil and liquid butter heated at 35 /40°C.
Mix the flour with all the dry ingredients and stir it in the liquid mixture.
Fold in the grated carrots and finish mixing.
Assembly
Butter and line the cake moulds with paper.
Fill each mould with 250g of cake batter.
Cut the gianduja into small cubes from 0.5 to 1cm a side and sprinkle on top.
Fill another 250g of cake batter and sprinkle again 40g of gianduja cubes.
Finish with 200g of cake batter and 40 g of gianduja cubes.
Sprinkle about 35 to 40g of baked caraway streuzel on top and bake at 160°C for about 50 to 55mins.