BEEF FILLET WITH RED CABBAGE PESTO
BY MÖVENPICK HOTEL & RESORT BEIRUT
Serves 1 | Prep/cooking 1 hr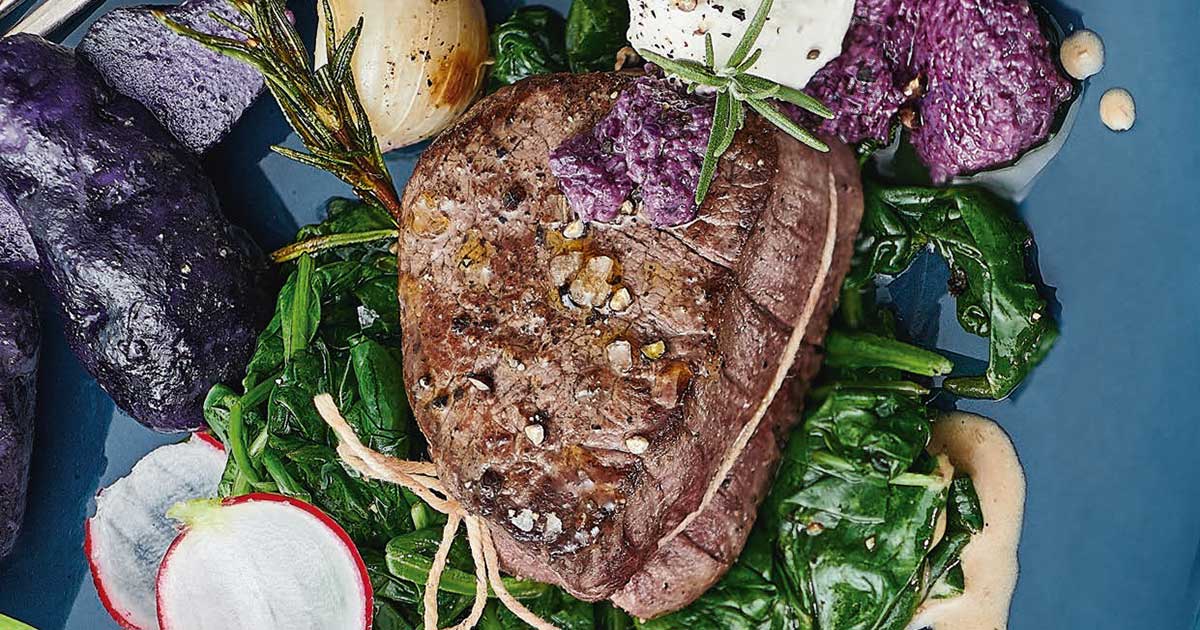 Red cabbage pesto
50g pine nuts
150g red cabbage
25g frozen blackberries
1 clove garlic
25ml olive oil
25g Parmigiano Reggiano
Sugar, sea salt and freshly ground black pepper
Beef fillet
4 x 160g beef fillet steaks
4 tbsp rapeseed oil
1 tbsp butter
4 shallots
4 cloves garlic, peel on
4 sprigs rosemary
100ml Glace de Viande
800ml cooking cream 25%
400ml double cream 35%
Sea salt, freshly ground Kampot pepper
1. For the red cabbage pesto, toast the pine nuts in a dry pan until golden brown. Remove from the pan immediately once done.
2. Peel and coarsely chop the garlic. Finely slice the cabbage and purée together with the frozen blackberries and the other ingredients – except the olive oil – in a food processor until well combined.
3. Add olive oil and continue to blend until a fine paste forms.
4. Finely grate the cheese and stir into the mixture. Add sugar, salt and freshly ground black pepper to taste.
5. For the beef fillet, peel and finely chop the shallots.
6. Tie the fillet steaks neatly with kitchen string so that they keep their rounded shape while cooking. Season with salt and pepper and sear in a hot pan with rapeseed oil, cooking for 2 minutes on each side.
7. Reduce the temperature, add the butter, letting it melt before adding the garlic and rosemary. Continue to cook the meat for another 3 minutes, basting frequently by spooning the fat from the pan over the top of the steaks.
8. Add the shallots, Glace de Viande and double cream to the pan, bring to a boil and allow to reduce for about 5 minutes.
9. Finish with a splash of whipping cream. Add salt and pepper to taste. Serve with garlic and rosemary.
Side dishes
Per person: approximately. 100g blue potatoes, boiled in salted water. 100g baby spinach, wilted in a pan with a small knob of butter and seasoned with salt and pepper. Keep the radishes raw, finely slicing them and scattering the slices over the top of the dish. Add cream cheese to taste, about 30g per person.
FROM MÖVENPICK HOTEL ALSO
GOOD TO KNOW
The unpeeled garlic cloves, cooked with the meat, transform into something truly special: the peel encases the clove, sealing in the flavor as it cooks. The clove slowly caramelizes and softens, like a sweet just waiting to be unwrapped.