BARBECUED BUTTERFLIED LAMB LEG
WITH ROASTED VEGETABLES AND TAHINI DRESSING
Serves 8 | Prep/cooking time 60mins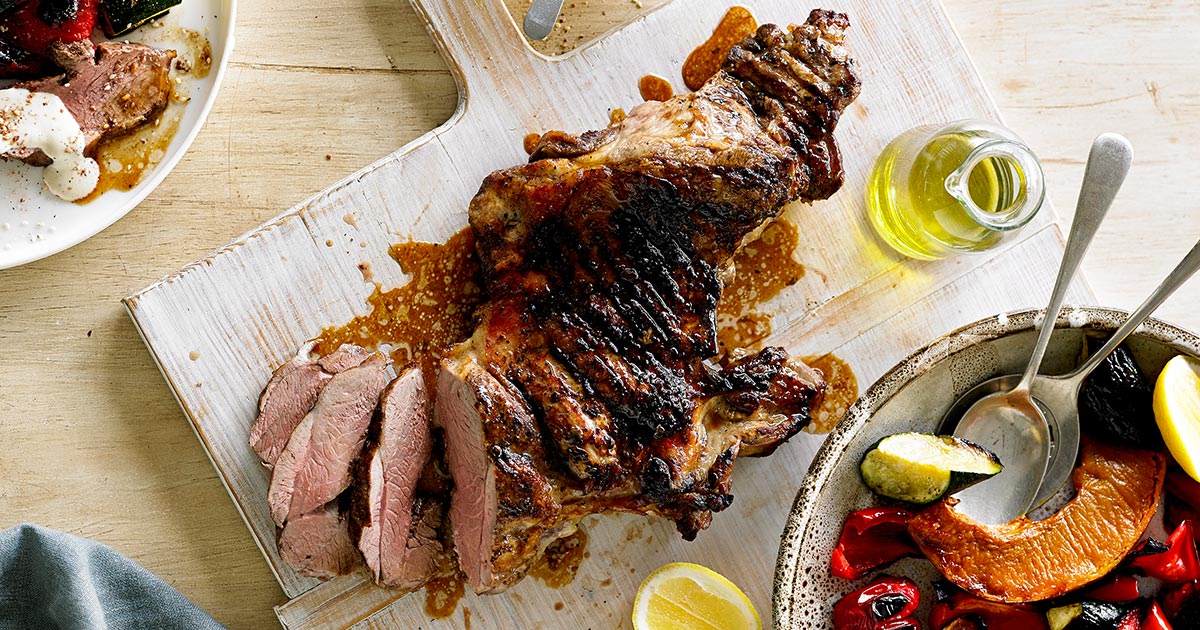 1.5kg butterflied lamb leg, trimmed of excess fat
1 lemon juice
2 tbsp extra virgin olive oil
800g Kent pumpkin, peeled and cut into 2cm thick wedges
2 red capsicums, seeded and cut into 4cm pieces
2 zucchini, cut on diagonal in 4cm pieces
Tahini dressing
2 tbsp tahini paste
1 tbsp lemon juice
1-2 tbsp water
Dukkah, to serve
Barbecued Tabdoori Lamb
 1 cup of yogurt
3-4 tbsp tandoori paste
Marinate the lamb and place in the fridge overnight.
Preheat oven to 220°C for the vegetables. Place lamb on a baking tray and squeeze over the juice of half a lemon.
Drizzle with 1 tbsp of oil and season with salt and pepper.
Cover loosely with foil and leave at room temperature for 30mins.
Place pumpkin, capsicum and zucchini on two baking trays, drizzle with 1 tbsp of oil and season with salt and pepper and toss to coat.
Roast for 35-40mins until vegetables are golden and cooked through.
Preheat a barbecue to 220°C and cook lamb over an indirect heat for 15 mins, serving side down.
Turn the lamb over and cook for another 10 minutes for medium, or until a thermometer reads 60-65°C.
Cover loosely with foil and rest for 15mins.
To make tahini dressing, whisk the tahini paste, lemon juice and water in a small bowl until the consistency of thickened cream. Season with salt and pepper to taste.
Carve the lamb against the grain and serve with roasted vegetables, tahini dressing and a sprinkling of dukkah.
Make sure the lamb is an even thickness so that it cooks evenly. You can do this yourself or ask your butcher to prepare it for you.
You'll find tahini paste in most supermarkets, generally in the health food section.
If you can't find butterflied lamb leg, try a butterflied shoulder, rump roast or leg steaks.