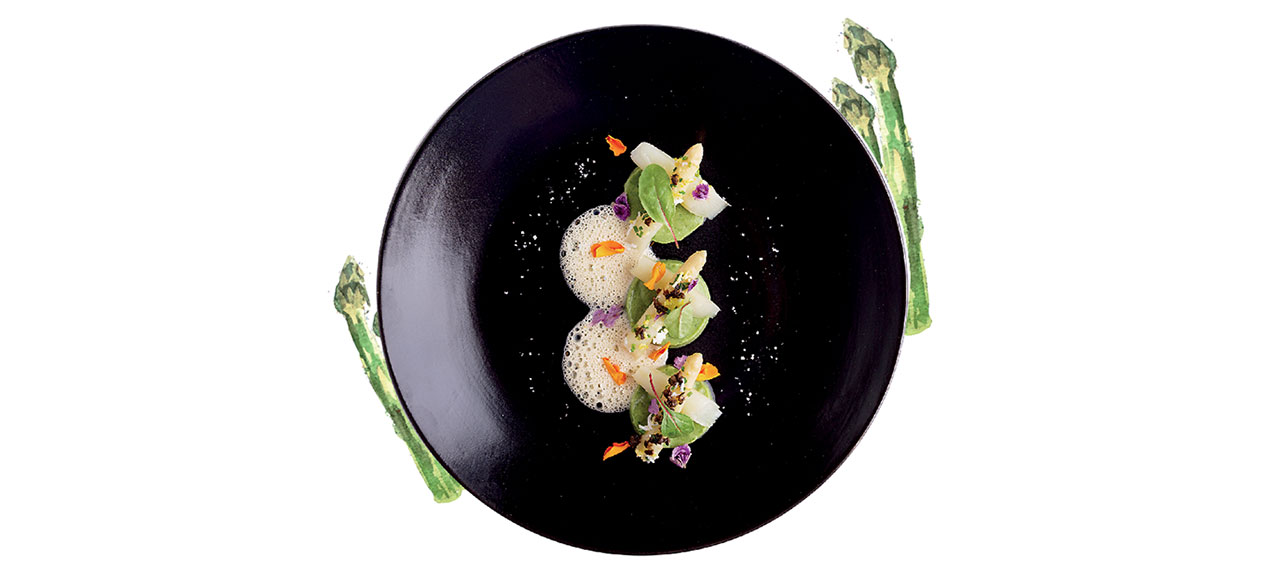 75g 3 pcs white asparagus (XL)
60g green asparagus mousse
30g Vermouth sauce
2 flower petals (orange & purple)
6pcs sprouts (green)
6 small beet leaves
5g truffle salsa
5g olive oil
2.5g hard-boiled egg yolk
2.5g hard-boiled egg white
5g fleur de sel
1. Place a circle mold on a chilled plate. Pipe out three circles of green asparagus mousse. Place in the refrigerator.
2. Cut the white asparagus into bite-size lengths (no bigger than your circles), place on a grill and brush with olive oil. Season with fleur de sel and delicately place truffle salsa, and grated hard-boiled egg yolk and white.
3. Remove the plate from the refrigerator and place white asparagus on the mousse.
4. Add the sprouts, flower petals and beet leaves.
5. Blitz the sauce at the last minute.
6. Using a tablespoon with holes, place the foam on the side of your green asparagus row. Serve.
NB: This dish is to be served at room temperature.